I need to run something by you...because I am starting to think I have a medical problem which causes people who work in food shops to detest me.


I was in Matlock, Derbyshire the other day to watch a fancy light show. Was with the family, it was a nice evening, we went to a chipy shop for tea.


I walked into the chipy shop and knew almost immediately that there was only one thing I wanted...no fishy, no pies, no chickens...all I wanted was curry chips. Correct me if I'm wrong, but I see nothing wrong with wanting curry chips for tea. Many people eat curry chips. Curry chips are tasty.


I approached the chippy girl behind the counter, she asked what I wanted. I said curry chips. She nodded, got a plate and put lots of chips on it. It was all going very smoothly. She put the plate in front of me and said "I will just get the curry for your curry chips" and walked away.


She returned with a empty plastic pot and started to fill the pot with curry. I looked at her and said "don't worry, i'll just pour the curry straight on to my chips," and held out my hand to take the pot from her. She stopped and looked at me. She said "...You want to pour it straight onto your chips?"


Baring in mind we were eating inside the shop (hence the plate, not a takeaway box) I thought it was perfectly reasonable to reply "Yeah, there's no point in me taking the curry pot over to the table, I'll just pour it onto my chips while I'm here."


The chippy girl looked at me with utter disgust. I have never seen such a look of outrage from a chippy girl. My cousin actually started to laugh, but she shot him a look, and he stopped fastly.


I said "Is that ok? I just dont want to carry the pot over to the table"


She passed the pot at me and just...stood there...watching me...as I poured the curry onto my chips. She didnt move at all as I poured the curry, it was like she was watching something die slowly. She looked ill. I handed the pot back to her, she took it from me in silence.

"Thanks" I said.

She said nothing.

I walked to a table and sat down...I replayed the entire thing over in my head as I waited for the others to get their food. When they sat down, I asked what I had done wrong. They had no idea. In fact, my cousin had gravy chips and apparently she had poured the gravy straight onto his chips with no issues.


I have conducted some scientific research and have discovered that when you type "curry chips" into the googles and check images...the images are all of chips covered in curry. There are no chips with a POT of curry sitting nearby. The curry is all over the chippy chips. All over. Messy curry, all over the place, no pots, no containers, no nothing.

Please see exhibit A: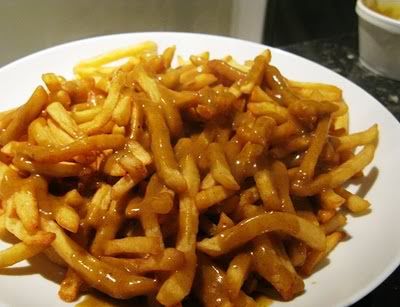 As you can see, in exhibit A the curry is not in a pot. The curry has been poured expertly over the chippy chips.


Please see exhibit B:





...Further evidence to suggest that curry chips are, in their natural form, chips covered in curry. No pots necessary.




4 days later I suspect it was the pouring of the curry from the pot that she didnt like...but I'm sorry...what the hell was she expecting me to do with a pot of curry? Did she think iwas going to sip the curry from it? Did she think I was going to dip my chippy chips into it? No. I was clearly wanting curry chips...which is chips covered in curry.




After this and the incident with Subway girl (slinkers.deviantart.com/journa…) I am starting to think there is something horribly wrong with me.