OK fellers. Lets play a game.


The other day I was on Formspring...reading all of the hilarious questions and stories you guys send to me. It made me realise how creative you can all be. It seems a shame that it is confined to text websites.


SO, I decided that I wanted to draw your creativity. I want to make a comic which revolves around your clever ideas, funny suggestions and CRAZYMINDS.






For the next month I will be running a contest called "The Comic of Consequences" on a brand new Twitter account: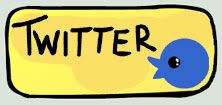 In effect, I am creating a month long comic series. The twist is that YOU decide where the story goes.


I love a good bit of randomness, and so do you seeing the way you respond to my random polls. Let's make a game out of it. Here is what I want to do:



This game revolves around 'frame suggestions'. Tomorrow night I will post the first frame of our story. It will set the scene, introduce a character and it will form the first frame of our 'Comic of Consequences'. Your challenge is to then send me your suggestions for Frame #2. It must fit into Twitters 140 character limit, that is the challenge.



From all of the submissions, I will pick the most creative/funny/interesting suggestion, and I will draw it as the second panel of our comic and submit it to DeviantART. If your suggestion is chosen, I will link the comic frame to your DA account.


Then, the next day, you can all send me your suggestions for Frame #3 - and once again I will pick the best, draw it and submit it to DeviantART. This will continue, every day, for an ENTIRE MONTH.



I mainly want to play with this idea because I'd be interested to see where our story ends up by the end of the month. It's a bit of fun! Take part! All you have to to is scribble a 140 character sentence into twitter and and see if your suggestion has been picked!




That's all you have to do. Each day I will pick the next winning suggestion, and I will draw it into our ever growing comic. That means there will be a new panel every day for you to enjoy. 30 panels, 30 winners.

At the end of each week, I will also set up a poll in which you can vote on your favourite panel of the week - and the person who suggested the winning image will recieve a 3 month DeviantART subscriptoin from me.

4 weeks in the month = 4 people will win a DA subscription.





GUIDELINES


In order to make your suggestions easy for me to draw - I will suggest a few guilelines here.

Let's base the following guidelines on the hypothetical idea of our comic being about a Rat called Matt. Frame one depicts Matt the Rat itching his back with a fork.






#1: You can use your 140 characters in Twitter to describe the next frame (i.e. what the Matt does next/what the he says next/whether or not a UFO falls into the frame/whatever you want!)


EXAMPLE: Matt turns around and spots a banana approaching him from the left. He freaks out and uses his fork as a weapon of defence.








#2: Alternatively, you can simply write the next line of the story. So, if the text in Frame #1 was "Once upon a time, Matt the Rat itched his back with a fork"... you can send me the next line in story form.


EXAMPLE: "He was using a fork because the cockroaches said it would bring him good luck."






#3: You can DRAW the next panel! All you would have to do is submit your image to DeviantART and then link it to me on Twitter. Then I would draw my own version of your image into our comic if you win.







#4: You can only send me a maximum of TWO suggestions per day - so make them count!




Remember, be CREATIVE. Feel free to introduce a new character, feel free to make it as weird as you want. Just make sure that your suggestion ties in smoothly with the previous frame and the line of the story.




Tomorrow evening I will begin our Comic of Consequences. I will draw our first frame and submit our first line of the story to Twitter. If you have a Twitter account, add me: twitter.com/TheSlinkers &… be ready to send your suggestions!



Get your creativity caps on! Lets create a comic!





Any questions, I will respond to them at the bottom of this journal.